Part 2
As previously mentioned, I agreed to take on a project of immense proportions and have it completed in 2 months.  This while working 2 jobs and keeping my 12 year old busy throughout the summer.
A challenge is great, but when people actually told me they were relieved it wasn't them, I began to doubt my decision. Common sense prevailed however and I decided it was simply too early to panic; there would be plenty of time for that later.
First things first!
After receiving the blocks, which were beautifully decorated by the children with fabric pastels, I began the long and very tedious process of heat setting.  
The pastels produced vivid, clean colours, and even though they left a thick, oily texture this was resolved by heat setting with paper towels.  I went through a lot of paper towels.  In case you wish to try this yourself the pastels were called "Fabricfun Pastel Dye Sticks" by Pentel.
Once the heat setting was completed I began the important task of making the centre block.  Working from a sketch of the world with hands reaching up, I enlarged the drawing, made templates and then found the perfect fabrics among the Bali Batiks and Robert Kaufman prints.  The hands represented 7 continents and were made with multiple tones from the deepest brown to a soft fleshy colour.  It was important to find clean values to compliment the primary colours of the blocks and I was very pleased with the results and ready to move on to the arranging and trimming.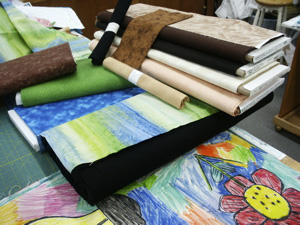 Needless to say the next step was overwhelming if you consider that visualizing the final size and format of the quilt would be impossible without a pattern.  I only knew that in order to fit on a Long-Arm Quilting Machine (quilting anything this large was unthinkable on my sewing machine) the quilt couldn't be larger than 124″ wide and 135″ long.  I had a vague idea for a design but that didn't last long.
Basically I was flying by the seat of my pants and hoping for inspiration ….
Until next time!